Waterway Point will be giving away 500 pairs of FREE Shaw Theatres movie tickets daily (total of 1,500 pairs of tickets) to the first 500 shoppers each day from 18 to 20 January 2016!

Simply redeem your free movie tickets at The Plaza, Level B1 East Wing from 10am onwards.

About Waterway Point

Waterway Point is a commercial building located at Punggol Central in District 19. Above Waterway Point lies the upcoming new condominium Watertown which has 900 residential units. This beautifully designed architecture is expected to be completed in 2017 by the reputable Far East Organization, Frasers Centrepoint and Sekisui House Ltd. Waterway Point is a $1.6 billion investment to develop the new Watertown project.

Waterway Point is a commercial mall make up of 4 levels inclusive of 2 basements. The commercial units here will be used for F&B, Retail, entertainment and other miscellaneous units. The Shaw Imax cinema will be located at the basement and it has about 1000 seats. There will also be a 24 hours operating NTUC Fairprice Finest outlet at the basement level.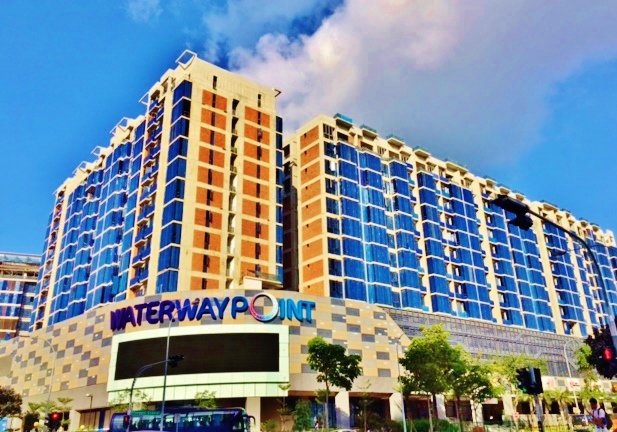 Commercial Building Location

Waterway Point is a commercial property that is strategically located at Punggol Central in District 19. The nearest Mrt station is Punggol Mrt/Lrt station which is 0.2 km away. Other nearby stations are Buangkok and Seng Kang stations. There are also several bus services nearby. Major expressways like CTE, TPE and KPE allow you to get to many places effortlessly. Driving to Marina Bay District and Central Business District will take you about 20-25 minutes. It is seamlessly connected to the rest of Singapore saving commuters transport time.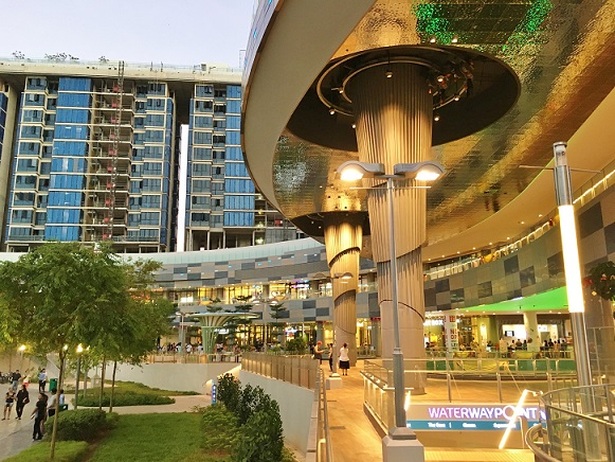 Amenities around

There is nothing more energizing and exciting than reveling in the pulse of the city. There is a cluster of exciting amenities around here:

Malls: Nearby mega malls like Waterway Point Mall, Rivervale Plaza, Rivervale Mall, Hougang Mall, Compass Point, Punggol Plaza and many more others which have a myriad of amenities like eateries, retail shops, supermarkets and banks. For more shopping, dining and entertainment purposes you can head down to the Orchard shopping district and Marina Bay District which is about less than 20 minutes' drive away.

Restaurants: For more dining options to satisfy your taste buds, head down to the restaurants along Punggol point or eateries in Sengkang and Pasir Ris.

Condominiums: There are also several prestigious residential buildings like A Treasure Trove,Flo Residence, Parc Centros, Park Green, Prive @ Punggol, River Isles, Riversound Residence, The Quartz and The Luxurie which are highly sought after by locals and expats.

Supermarkets: The nearest supermarkets is Cold Storage at Compass Point, NTUC Fairprice at Rivervale Mall, Sheng Siong Supermarket at 301 Punggol Central and Prime Supermarket at 108 Punggol Field.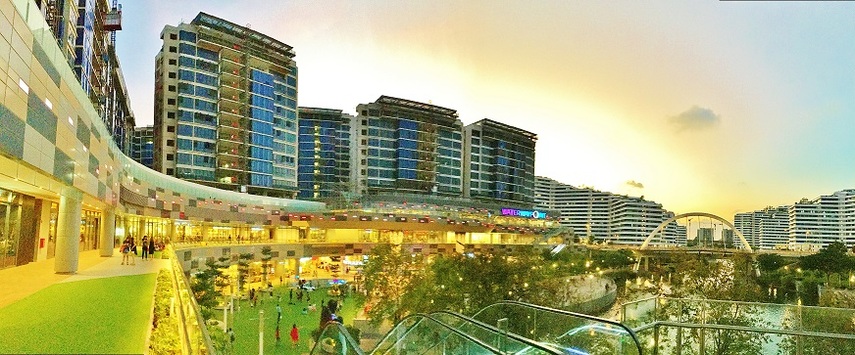 Healthcare: For medical consult, you can head SengKang and Pasir Ris Polyclinic, Ren Ci Hospital, Bright Vision Hospital and Changi General Hospital in the area to provide specialist healthcare services for the residents.

Education: Edgefield Primary School, Horizon Primary School, Compassvale Primary School, Rivervale Primary School, Greendale Primary School, Punggol Primary School and Sengkang Primary School. The Secondary Schools in the neighborhood include Sengkang Secondary School, Greendale Secondary School, Compassvale Secondary School, Mee Toh School and Punggol Secondary School.

Recreational facilities: There are many recreational facilities around here include Punggol Promenade, Punggol Waterway Park, Punggol Point, Marina Country Club, Sengkang Riverside Park, Sengkang Community Hub, Sengkang Sports and Recreational Centre.

Places of worship: For places of worship in this multi-racial and religion society, one can head to Fo Guang Shan at 1 Punggol Place, Sheng Jia Temple at 3 Tebing Lane, River of Life Community Church at 19 Ponggol 24 Avenue and Central Christian Church at 1 Edgefield Walk.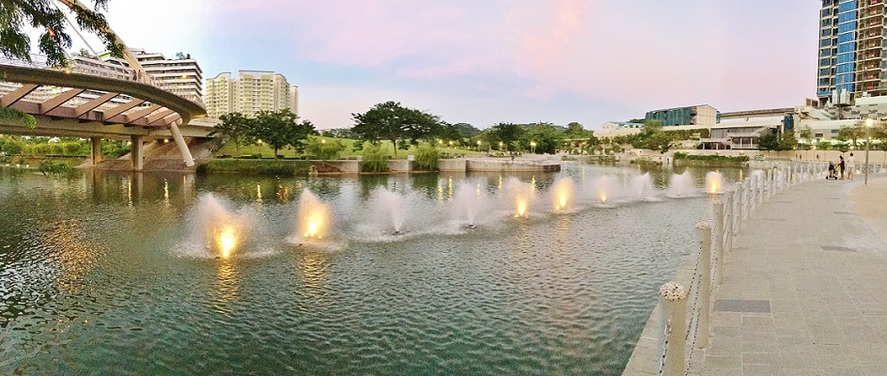 Conclusion

Waterway Point is definitely a highly sought after commercial building as it is located near to Punggol District. There are a myriad of facilities in-house and nearby to cater for all your needs. For more details, please contact the relevant personnel.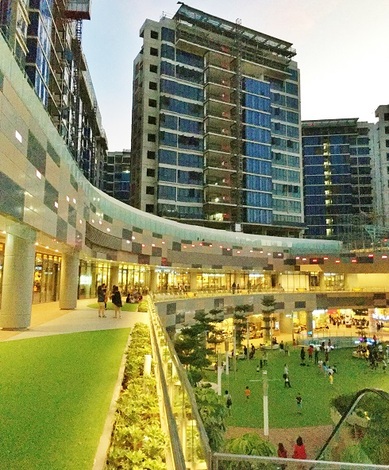 Did You Know? - Punggol History

Painful Memories of Punggol Beach Massacre

Punggol Beach Massacre was part of the Sook Ching massacre (simplified Chinese: 肃清大屠杀; Japanese: hingapōru Daikenshō シンガポール大検証) that took place during the Japanese Occupation of Singapore after the British colony surrended on 15 Feb 1942. It was an extermination of Chinese activists who donate to Chongqing to fight the Japanese then.

Chinese Men between the ages of 18 to 50 will be brought to "screening centers" by Japanese Kempeitai officers. Those thought to be involved in anti-Japanese activities or those who look suspicious or those who have tattoos associated with secret societies will be chosen and stamped with triangular marks to be held as prisoners or executed. Those who passed through the examinations will be stamped square ink marks/given certificate and released.

Those who did not passed the "screening examination" will be taken to the execution sites at Punggol Beach, Changi Beach and Sentosa to be executed. The Punggol Beach Massacre on 28 February 1942 by the Hojo Kempei firing squad saw about 300 to 400 Chinese shot at Punggol Beach. The current Changi Beach Park was where one of the most brutal killings in Singaporean history was conducted. On 20 February 1942, 66 Chinese males were lined up and shot by the Japanese military police. Berhala Reping at Sentosa Beach was another site where many were executed.

Sook Ching massacre extended to the rest of Malaya especially Penang. According to Singaporean Chinese Community the death toll is estimated to be around 50,000 to 100,000. The war ended in 1947, the British authorities held a War Crime Trial against 7 Japanese Officers responsible for the massacre. 2 of them Masayuki Oishi & Saburo Kawamura received death penalty and the other 5 (Takuma Nishimura, Yoshitaka Yokata, Tomotatsu Jo, Satoru Onishi and Haruji Hisamatsu ) life imprisonment sentence.

After Singapore Independence 1965, Japan agreed to pay $50 million in compensation. The massacre sites at Sentosa, Punggol and Changi were marked as national heritage sites by the National Monuments of Singapore in 1995. They serve to commemorate the end of Japanese occupation and to remind us of those who died during the war.

MM Mr Lee Kuan Yew once said on the Discovery Channel programme which discussed about the Sook Ching Massacre, "It was the catastrophic consequences of the war that changed the mindset, that my generation decided that, 'No...This doesn't make sense. We should be able to run this [island] as well as the British did, if not better.'""The Asiatics had looked to them for leadership, and they had failed them."

Oldest House in Punggol

Matilda house also called Istana Menanti ("Waiting Palace" in Malay) was built in 1902 by Irish Lawyer Joseph William Cashin for his wife. It acted like a weekend resort house for this wealthy family. They also have other houses in Singapore like The Pier at Lim Chu Kang (also a weekend resort) and "Butterfly House" at Amber Road.

Matilda House occupies 417 square feet. It has distinct red roof and white walls. There are a total of 6 bedrooms and a tennis court. Now it is just a dilapidated ruined house.

The Cashins moved out many decades ago. Urban Redevelopment Authority put this house on the conservation list in 2000. There have been bids by developers over this plot of land and its surroundings. If successful, this century old house will probably be converted into a clubhouse?